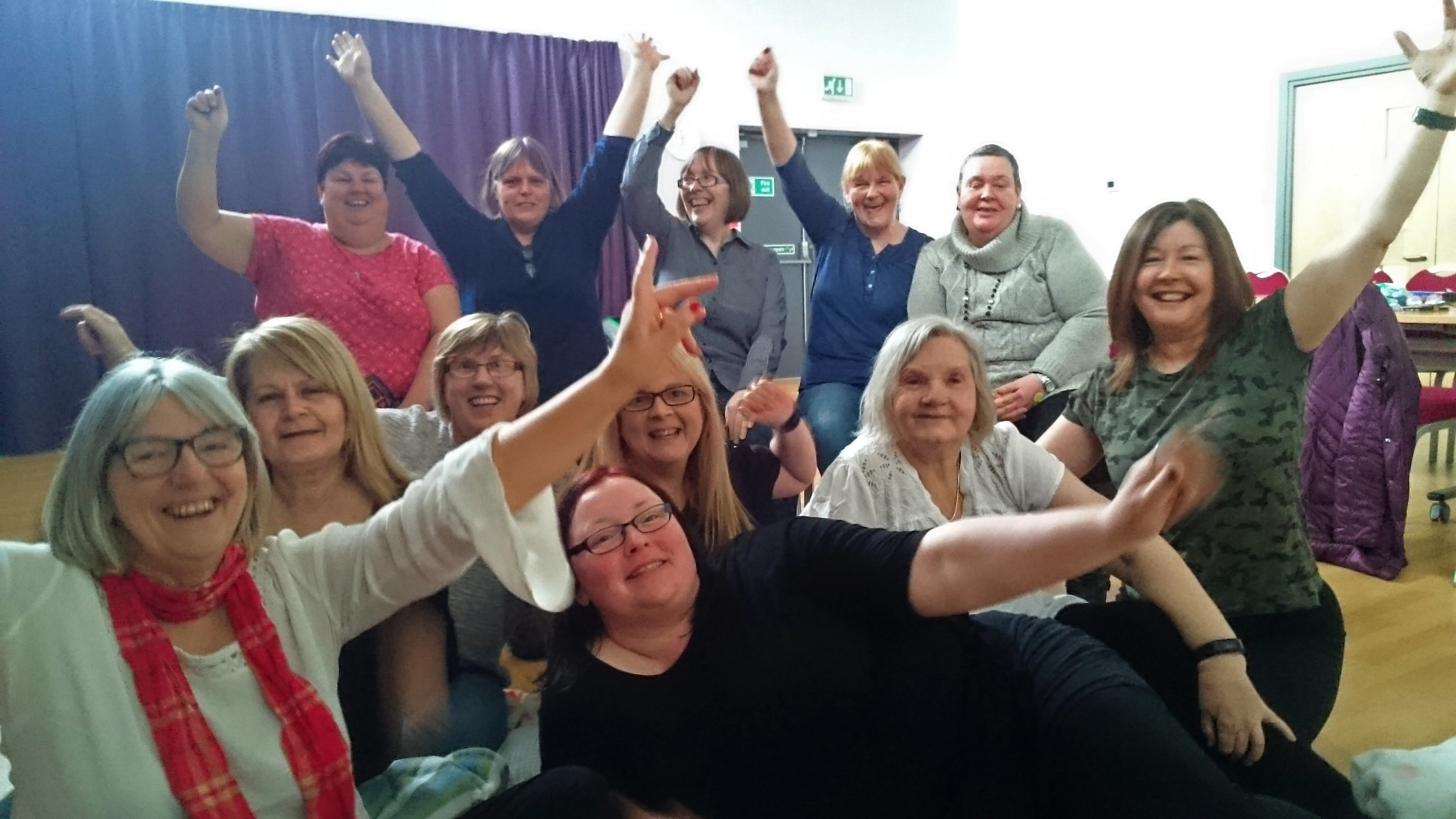 "We don't laugh because we're happy; we're happy because we laugh." William James
Laughter Club is a global, not-for-profit movement promoting health, joy and peace. Our aim is to bring more laughter, joy and energy into our lives through Laughter Yoga.
"Great fun."
"Energising, uplifting and lots of fun."
Morag has been running Falkirk's first ever Laughter Club since 2015. It meets monthly on the first Wednesday of the month (10.00-11.30 am) in the Community Space in Redding Tescos, FK2 9RA. Suggested donation: £7 (includes tea/coffee and a biscuit at the end).
At the moment Laughter Club is continuing to meet weekly online through Zoom. We are finding this platform works really well and is helping keep us all connected as well as allowing us to destress and keep our spirits high. Please see the Laughter Yoga Events page for further details.
Next meeting is this Wednesday at 9.15 am. To join us simply register at this link then you'll receive a link for the meeting.
You are invited to a Zoom meeting.
When: July 1st and weekly, 2020 09:15 AM London
Register in advance for this meeting:
https://us02web.zoom.us/meeting/register/uJQrdOuprjIpuokruygpTRh489Weesyogw
FAQs
What happens at Laughter Club?
We start with some gentle warm up exercises designed to enable us to let go of our logical thinking side and bring out our more playful side. This helps us to let go of any inhibitions and relax. Next we do a number of laughter "exercises" designed to convert pretend laughter into real, hearty laughter. These are alternated with some yogic breathing or pranayama to energise and oxygenate our bodies. We finish with a laughter meditation (or free laughter) where we allow our laughter to flow naturally. Finally we finish with a grounding, relaxing meditation to leave us calm and relaxed but uplifted.
What do I need to bring?
The only essential is to bring yourself and a willingness to let go and have fun. No yoga equipment needed. However, if you're coming by car, it's helpful to bring a blanket and a pillow for the final meditation.
What do I need to wear?
Just loose comfortable clothing which allows you freedom of movement and preferably layers as you may feel warm during the exercises and cool down during the meditation. No specific yoga clothing is needed.
I'm on a low income and can't afford a donation
You are still welcome. Laughter Clubs are open to everyone regardless of ability to pay. Donations of what you can afford are always welcome as they help cover costs and enable me to take Laughter Yoga to the people who need it most.
Do I need to book in advance?
Advance warning is preferable to give me an idea of numbers but not essential so just come along.
For further details and to book, please contact Morag on 07756 490562 or email info@livelaughbreathe.co.uk.