Certified  Laughter Yoga Leader Training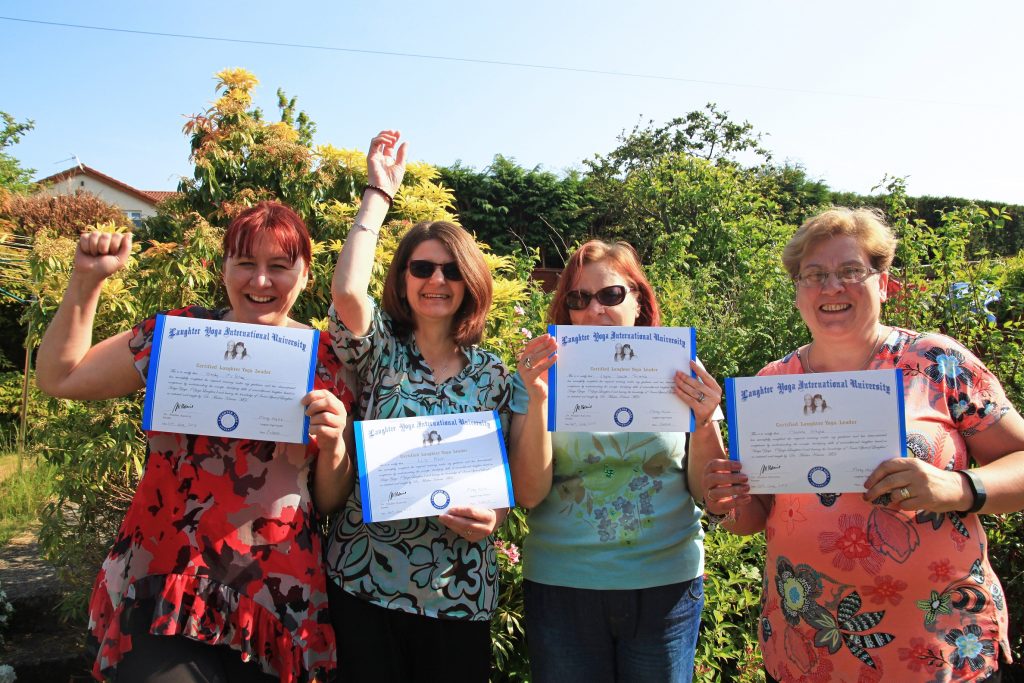 The latest Certified Laughter Yoga Leader Training took place at the end of November. The next one is planned for early spring 2020. Dates to be confirmed shortly.  Details will be similar to those below.
Reddingmuirhead Community Hall
Shieldhill Road, Reddingmuirhead
Falkirk FK2 0DT
9.30 till 4.30 each day (times are approximate depending on the size of group)
Would you like to learn the skills to spread the wonderful gift of unconditional laughter amongst family and friends, start your own laughter club or use laughter yoga in your workplace? Or maybe you just want to bring more laughter into your own life? If so, this basic 2 day training is for you.
During the training you will learn the history, concept, philosophy and different steps of Laughter Yoga and meditation; how to start and run a laughter club; how to present the basic laughter yoga exercises and you will take part in 4 laughter sessions.
You will also gain confidence in presenting to a group of people and learn how to bring more laughter into your own life.
Laughter Yoga was developed in India in 1995 by Dr Madan Kataria and is a unique concept which enables us to laugh for no reason without the need for humour, comedy or jokes. Through the use of laughter exercises, eye contact, childlike playfulness and yogic breathing, we convert pretend laughter into real, hearty belly laughter. In this way our bodies produce lots of endorphins instantly raising our mood and lowering our stress levels. Laughter has many other benefits including stimulating the immune system, making us feel lighter, more energised and happier.
Following a successful assessment (including a short written assessment) at the end of the training, the participants wil be certified as Laughter Yoga Leaders and given a certificate which will enable them to obtain insurance to run a not-for-profit Laughter Club.
The course is also a great, fun weekend if you'd like to bring more laughter into your own life and learn some ways to do this on a regular basis.
Course contents:
Why we need laughter yoga
Some of the history behind this world-wide movement
How to organise a laughter session and start your own laughter club
The many benefits of laughter yoga
Get a chance to practise presenting in front of a group of people and hone your presentation skills
And mostly, have lots of fun for two days taking part in 4 complete laughter sessions.
Course includes:
A printed manual
Follow up material (including meditation scripts)
A certificate to enable you to obtain insurance to run a laughter club
Free ongoing support after your training.
Your investment:
£175 early bird price (when paid in full before 23rd October)
£225 when paid in full before the start of the course.
Your teacher
Morag Wylie is a Certified Laughter Yoga Teacher with many years experience of empowering people to lead happier lives. She began her exciting journey with Laughter Yoga in 2015 to bring more joy into her life and was amazed how quickly laughter became a big part of her life, changing her attitude to life by helping her cope with stress and bringing her more joy.
She is also a Certified Transformational Breath Facilitator and Workshop Leader experienced in supporting people on their healing journeys. She is also a Sound Healing Practitioner.
Morag's mission is to spread laughter in Scotland and create a community of Laughter Yoga Leaders and Teachers who work together to bring more joy, health and happiness to Scotland.
To book and for further information, please contact Morag on info@livelaughbreathe.co.uk or phone 07756 490562
Transformational Breath Events are listed here.