"Life is worth living as long as there's a laugh in it," L M Montgomery (author of "Anne of Green Gables")
Our population is ageing. We are living longer but not necessarily happier lives. Our elderly citizens can feel socially isolated and be affected by mobility issues compounding their isolation; they may have physical problems with daily pain and discomfort; and they may have lost the ability to laugh at jokes or humour through dementia or Alzheimer's.
At the moment older people may be feeling particularly alone after having to remain in isolation for many months. 
The good news is that Laughter Yoga is especially beneficial for older people:
It alleviates the feelings of isolation through connecting people in community.
People who have lost the cognitive ability to understand jokes can still laugh with Laughter Yoga.
It boosts the immune system helping vulnerable people cope better with colds and flu.
Scientific studies (by Dr Lee Berk) have shown laughter can reduce stress levels and increase levels of good cholesterol.
Laughter Yoga can be done seated making it suitable for those with reduced mobility.
"You don't stop laughing because you grow old; you grow old because you stop laughing."
I remember the first laughter yoga session I delivered to a group of elderly people with depression. I was a bit apprehensive about how it would go. I needn't have worried. It was wonderful to see their faces light up with laughter and joy. There was a feeling of energy in the room and they all went home smiling and happy.
"Morag delivered a laughter yoga session for a group of over 65 year olds who were initially uncertain about taking part with concerns about mobility issues and feelings of self-consciousness. However Morag's skilful attention to individuals and the specific needs of the group has to be commended. This resulted in everyone thoroughly enjoying the whole experience so much so that they raved about it for weeks and we at Action on Depression aim to take part in laughter yoga training to be able to deliver this for our groups." LK from Action on Depression (LK did go on to train as a Laughter Yoga Leader with me).
I am happy to provide tailor-made laughter yoga sessions for your group of elderly people whether it be in a retirement home, day care centre, community group or if you just have a group of elderly friends who would like to get together.
Laughter sessions are currently being run On-line through Zoom which is very easy to set up and manage.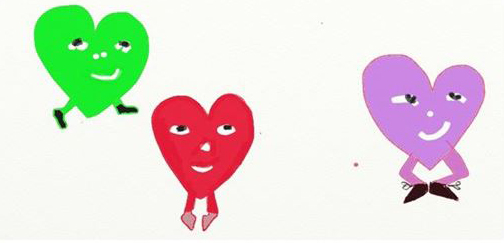 I am currently running a special playshop called Dancing Hearts for people affected by Alzheimers or Dementia and their carers. For more details see events page or click here. 
Please get in touch to discuss what I can deliver in line with your budget (call 07756 490562 or email info@livelaughbreathe.co.uk).